Cambria Quartz
Star Granite Interiors is an exclusive fabricator of Cambria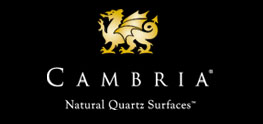 Quartz Surfaces. For those who love the look of granite but are concerned about the drawbacks of color, vein variation and sealing, quartz countertops are the answer. Quartz surfaces are uniform in color, pattern, and texture. Quartz surfaces do not ever need to be sealed and are one of the most durable countertop surfaces. Cambria can bring elegance and beauty to any room in your home. Quartz has a beautiful collection of colors and performance to offer. Please click the logo above for a link to Cambria's website to find more information on this great product.
Discover the warmth and richness that can only be found in natural quartz surfaces – where elegance and beauty meet function and lasting durability. With an endless palette of dazzling colors showcasing the depth and character of natural quartz, you'll see why more and more homeowners are asking for Cambria by name. Bring your dream kitchen or bath to life today – Discover yourself in Cambria!
Strength & Durability- Cambria Natural Quartz Surfaces™ are twice as strong as other stone surfaces.
Maintenance Free - No sealing, polishing or reconditioning is needed. Cambria will resist stains from common food items such as wine, coffee and tea.
Food Safe - Cambria has been certified by NSF International as safe for use as a food preparation surface. Cambria is nonporous; therefore, food and moisture cannot penetrate the surface — the main source of growth for harmful bacteria.
All Natural - Cambria is created from pure natural quartz, an extremely hard stone. In fact, quartz is the hardest non-precious stone that can be found in the earth's surface.
Everlasting Value -Cambria kitchen countertops or bathroom vanity will add value to your home.
Star Granite Interiors is a Stocking distributor/fabricator or Cambria Quartz surfaces. Because we stock a large inventory the availability, pricing, and turnaround are superior to any other quartz surfaces provided by other fabricators.